CLUTCHES
Clutches are our Core product and our primary concern since 1974. We rebuild, manufacture and import all manner of clutch product. From Mini's to Mack's, Tractors, Race cars and Classics. We carry a good range of replacement product on the shelf with the ability to manufacture to order if required.
PRESSURE PLATES:
Two Main configurations - 

Spring and Lever - These are the older style that use coil springs for pressure. They are rapidly being phased out in most non-commercial applications. They are, however, still extensively used in commercial applications. In most cases these units can be pressure up-rated (heavy duty) and many of our stock units (especially Japanese based) have been up-rated as a matter of course. They are all built, set and individually tested as part of the rebuild procedure.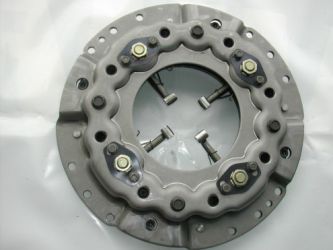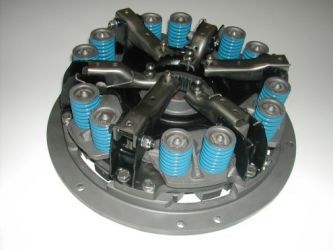 Diaphragm - These units use a multi-finger sprung steel diaphragm (Belleville) spring for pressure. They can be of "Push type" or "Pull Type" configuration. They are extensively used in most private and light commercial applications. Most of our aftermarket diaphragms are slightly heavier than standard and in a lot of cases we can up-rate (heavy duty) if required. All units we build are individually tested after assembly as part of our on-going quality control.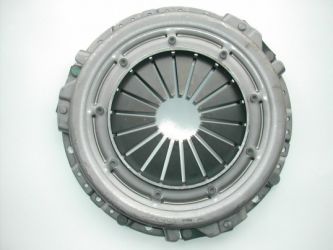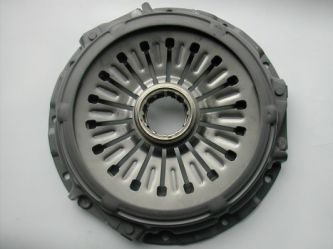 CLUTCH PLATES
NEW 
Aftermarket, quality product, manufactured to, or better than, O.E. standard.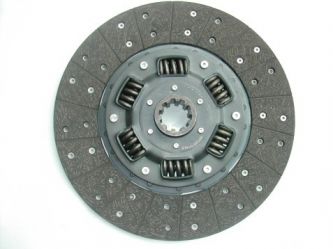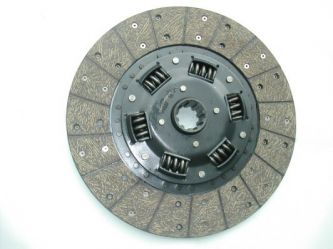 RELINED 
Our relined plates are rebuilt to manufacturer's specifications, or required specifications if different to standard. We generally use a woven type facing material with dust release and anti vacuum slots. Our most common material is a Kevlar weave lining called HDS57 that is great for Performance & Heavy Duty applications. This material will also work in oil.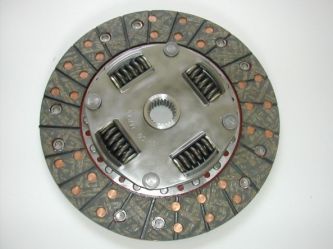 'PUK' 
These are designed for hard wearing and racing type applications. Whilst they will maximize clamp, they will compromise drivability & be very "ON/OFF". They are generally produced with a solid, non-sprung centre and come in 4 main configurations:
3 Puks per side – up to 225mm 
4 Puks per side – up to 240mm 
5 Puks per side – up to 280mm 
6 Puks per side – up to 280mm
They are produced from 1.6mm high grade 'Corten' steel plate and use sintered bronze PUKS as the friction material. Solid centre plates are produced with a quality, hardened, 8 rivet hub & "HUBXTRA" plate for extra strength. We carry 22 different spline sizes in stock & can manufacture to order in most cases. We have a limited range of sprung centre plates in stock also.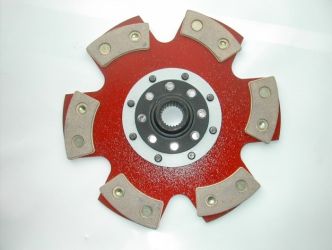 'SRO' (Solid Rivet Organic)
These use a standard sprung centre plate & have HDS57 Kevlar Weave linings solidly riveted on (eliminating the sprung effect between the 2 facings). We use these for Stage 2 performance applications where we need the linings to have more torque strength & the plate to release quickly. They are able to be used with our modified pressure plates and they maintain a good level of drivability. Especially popular for street use.
4TERRAIN
A clutch plate suited to the rigours of Four Wheel Driving. They have a standard organic lining on the pressure plate side & a segmented Aramide lining on the flywheel side. The Aramide material has a greater friction coefficient & because it is segmented, will allow better cooling & wiping of flywheel surface. They are thicker than standard plates, so they can only be sold as part of a kit.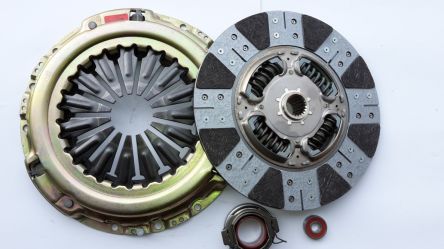 BEARINGS
NEW
We have a large range of clutch release & spigot/pilot bearings. These are supplied with our Clutch Kits where applicable. We also have a small range of CSC's (concentric slave cylinder = Hydraulic release bearing)
CLUTCH KITS
We carry an extensive range of 3 or 4 piece clutch kits on the shelf. Most kits contain a Pressure plate, Clutch plate, Release bearing & Spigot bearing (if applicable). Our kit range is based on the New Zealand car market, which is quite diverse.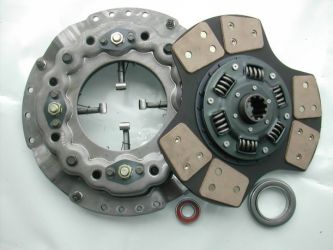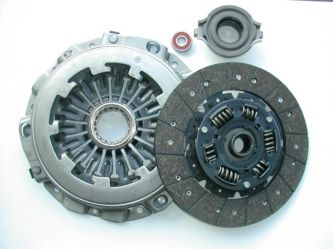 PERFORMANCE CLUTCHES
We supply & manufacture a wide range of up rated clutch assemblies.
STAGE 1 = Heavy duty pressure plate that will normally have a slightly heavier diaphragm spring & operate suitably on a standard clutch plate. Offers good drivability & ideal for utes & work vehicles (not available in all applications).
STAGE 2 = Pressure plate modified to maximize clamp. Clutch plate is relined in a SRO (Solid Rivet Organic) style with our HDS57 Kevlar Weave lining material. This also offers good drivability, but is a little more aggressive than a Stage 1 set up.
STAGE 3 = Pressure plate modified to maximize clamp. A Solid Centre 'PUK' plate fabricated to your gearbox spline with 3, 4, 5 or 6 PUKS per side. The less PUKS you have,  the more aggressive the take off will be. These units are a very ON/OFF aggressive type suited more to racing applications.
MANTIC = The latest addition to our range. These are Quality twin & triple plate assemblies for higher torque & performance applications. Manufactured in Australia & currently available for Chevrolet, Ford & Holden applications, with other makes under development.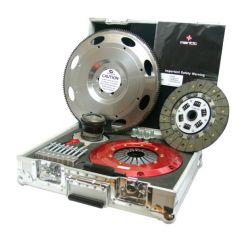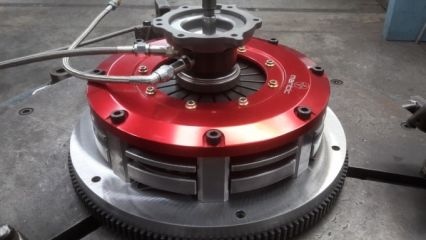 COMMERCIAL CLUTCH
We carry a large range of Commercial clutch product in stock. Most of our aftermarket product has better clamp than standard & we have the ability to up-rate if required.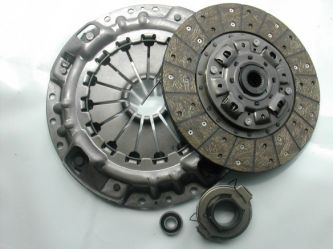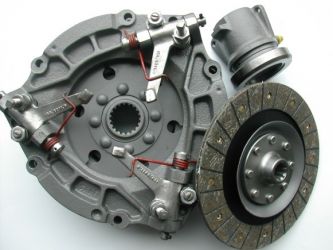 TEST FACILITIES
We have the ability & equipment to test clutches. We are able to test for DFCP (Down Force Clamp Pressure) & actuation (or release). We charge a nominal fee for this service ($45. We will waiver the cost, if goods to the value of $100 or more are purchased). For a lot of our performance clutches we recommend that we test & assess your original unit. This ensures that what we supply you will be better than what you had. As part of our rebuild process, we will provide before & after clamp pressures and how much actuation is required to release the clutch plate. All units are individually tested & we keep a job sheet of what was done for future reference.
FLYWHEELS AND MACHINING FLYWHEELS
It is critical to a 'Proper' clutch job to have the flywheel machined or replaced. Installing a new clutch on a distorted flywheel could cause initial slippage and/or shudder issues. It will also create premature wear. We are able to machine your flywheel (subject to it being serviceable) & in most cases can do this while you wait, if necessary. We also have new flywheels available for some applications. Flywheels come in 3 configurations – Flat, Recessed (or Pot) & Stepped. It is crucial that a flywheel is machined to it's O.E. spec or a replacement clutch may not work correctly.