To compliment our clutch range, we carry a comprehensive range of Brake product and provide a wide range of Brake related services.
PRODUCTS
DISC PADS
We carry 550+ different part numbers in stock. Most are what we call a "Semi-metallic" pad, which conform to, or exceed, manufacturer's specifications. We are able to source better spec pads for performance or hard wearing applications in a lot of cases, too. Call for more information. 
For the really hard to get disc pads, we can fabricate or have backing plates rebonded.
BRAKE SHOES
We carry 350+ brake shoe sets in stock. These are normally sold as a set of 4 shoes to suit 1 axle. We have a mixture of New & Rebonded shoes that meet or exceed manufacturer's specifications. For shoes that we do not carry, or are hard to attain, we have a rebond service available. In some cases we may need to get linings made in oversize (thicker) to cater to particularly worn (but machineable) drums.
WHEEL CYLINDERS
We carry 400+ different Wheel Cylinder part numbers in stock, from Mini's to Commercial Trucks. These are identified by application, but it is good to know if it is – Single or Double piston, and Bore size i.e. ¾", 7/8", 1 1/8", etc. For cylinders that are extremely expensive or just hard to get, we can offer a Stainless Steel re-sleeving service. The cylinders come back with a better-than-new bore, a complete rubber kit & ready to bolt on.
DISC ROTORS & DRUMS
All Disc Rotors have a minimum thickness and once worn beyond the minimum must be replaced. We carry a large range of NEW replacement rotors in stock at very competitive prices. We can also supply Znoelli performance discs, on firm order. They come in 'slotted' and 'dimple drilled and slotted' configurations.
MASTER CYLINDERS
We carry a small range of Master Cylinders in stock, but have access, through a range of reputed suppliers, to a very comprehensive range of cylinders. Re-sleeving is also an option for hard to get applications. We do carry a small range of Master Cylinder Kits too. A Cylinder will need to be stripped & assessed to see if it will take a kit.
BRAKE HOSES, PIPES & FITTINGS
We carry a large range of flexible rubber Brake Hoses for specific applications, with the ability to have hoses made to measure or sample. 
We sell Cupro-Nickel tube that is 90% copper and 10% nickel. This product comes in 3/16", 1/4", 5/16" and 3/8". It is fully certified, easy to bend and flare, and will not rust. We have a large range of fittings to suit this pipe, also.
TRUCK LININGS
We carry a comprehensive range of Truck Linings in stock. Our linings are predominantly 'MINTYE' brand and meet or exceed manufacturer's specification. We have a relining service available.
BRAKE FLUID
The most common used fluid is DOT4. We carry this in 500ml & 5 litre containers. We also carry DOT5.1 which is a high temp version of DOT4. These brake fluids are hygroscopic, which means they absorb moisture. Your brake system should be flushed every couple of years to ensure that you are always using clean "dry" fluid and not "wet" fluid (wet boiling point defined as 3.7% water by volume). 
These fluids are not to be confused with DOT5, which is a silicone based (hydrophobic) product. 
The 2 fluids are not compatible.
| Boiling point | DRY | WET |
| --- | --- | --- |
| DOT 3 | 205 °C (401 °F) | 140 °C (284 °F) |
| DOT 4 | 230 °C (446 °F) | 155 °C (311 °F) |
| DOT 5 | 260 °C (500 °F) | 180 °C (356 °F) |
| DOT 5.1 | 270 °C (518 °F) | 190 °C (374 °F) |
SERVICES
DRUM & DISC MACHINING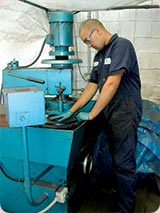 Why do we machine drums and rotors? If you install your new pads or shoes onto an untrue surface, they will not wear evenly and wear out prematurely. When machined, the surfaces become flat and true and as good as original, so your pads or shoes will last longer. 
Discs (or Rotors) do have a minimum thickness, so if not machineable will need to be replaced. We do not machine discs below minimum thickness!!
Drums do have a maximum ID (internal diameter) and will normally only be machined to this point. If the drum has good integrity, you can machine it oversize, however, you will have to get brake shoes with thicker (oversize) linings and have them profiled to suit.
COMMERCIAL (TRUCK & BUS) DRUM MACHINING
We can machine Commercial drums providing they are serviceable. Most drums have a machining tolerance of 3mm over their original ID. We need these drums to be still attached to a hub, as we set them up on the opposing bearing cups. We can machine these with the wheels still attached. A pickup and delivery service is available also (fees apply).
BRAKE SHOE PROFILING (RADIUSING)
We are able to profile brake shoes to suit a specific drum diameter. This is particularly important if the machined size of the 2 drums on one axle is different. If the shoes are profiled to suit their respective drums, there will be the same amount of contact on each side, resulting in even braking. Most shoes are profiled parallel to the drum, however Bendix type shoes have to be profiled so they will rock slightly. This is done to stop the brakes being overly aggressive on actuation. We are unable to profile Cam & Anchor style shoes.
COMMERCIAL BRAKE SHOE RELINING
Most Commercial Brake shoes have 'rivet on' linings. We process these by removing old linings, cleaning shoes and riveting the new linings on. This is a service that takes approximately 2 hours for a set of 4 shoes. It is advisable to profile these to the drum once they are done (so long as they are not cam & anchor style shoes).
SPECIALIST RELINING – BRAKE BANDS, ETC.
We are able to reline brake bands for winches, and veteran and vintage vehicles with band style brakes. These are predominantly done with a woven type MZB style lining material. There are lining materials to work in dry and wet (oil bath) applications.
BRAKE PIPE FABRICATION
We use Cupro-Nickel brake tube that comes in 3/16", ¼", 5/16" and 3/8". We carry a large range of fittings, both metric and imperial. If you bring us a sample pipe we can identify and fit the fittings and flare the pipe to suit. We can also bend to original shape. Be aware that there are 2 types of flare, single and double flare. It is critical to use the correct flare.
BRAKE CALIPER REBUILDING
Most vehicles come out with front calipers and more and more are coming out with rear calipers. These quite often come to us completely seized. Our process is to; disassemble and assess; price up parts and labour and inform customer; clean, sandblast, paint, and reassemble. Many calipers these days have 'pitted' (or scoured) pistons that need to be replaced. We have access to a comprehensive range of new pistons, and for those that are unavailable; we can get them re-sleeved in stainless steel. We paint calipers in either clear or black. We can do it in your nominated colour, if you provide the paint.
"There is no compromise for a PROPER job. Do it right first time, and you won't have a problem."